CIARRA Portable Induction Cooktop 1800W with Touch Control CATIH1-OW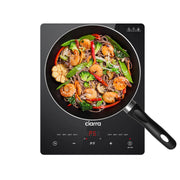 High Energy Efficiency: Cooking your food 50% faster than conventional gas or electric cooktops. Burner heats only within the diameter of the pan, so no energy is being wasted.
High Security: The auto-pan detection will shut the unit automatically after 30 seconds if no cookware or incorrect cookware is detected. Child safety lock, automatic switch-off, and residual heat indicator ensure much security.
Easy Cleaning: With no open flame or heating element, cooking with an induction cooktop is safer, plus you can quickly clean up the residuals left from cooking on the cooktop surface with a damp towel.
9 Power Levels: 100W to 1800W
8 Temperature Ranges: 140℉ to 460℉
Compatibility: Suitable for 4.7-10.2 inch (12-26cm) cookwares
Smart Cooking: With touch control, temperature control
Timer function (3 hours): Press "+" or "-" button to set the timer in 1-minute increments, long press for 10 min-increments
Standard Shipping - Free For All Orders
10-15 Business Days
Express Shipping - Extra $17.99 For Orders
5-10 Business Days
Frequently bought together
Meet Your New Induction Cooktop
1. Energy-Efficiency: Up to 90% energy efficiency, they make your cookware hot using electromagnetic induction, is more efficient, cooler and safer than traditional gas or electric stoves. CIARRA portable induction hob is perfect for bringing water to a boil quickly and for all of your cooking needs.
2. Compatible Cookware: In order to use this induction hob, you need to use cookware with magnetic-based material bottom and with magnetic permeability diameter from 4.7 in -10.2 in (12 to 26 cm).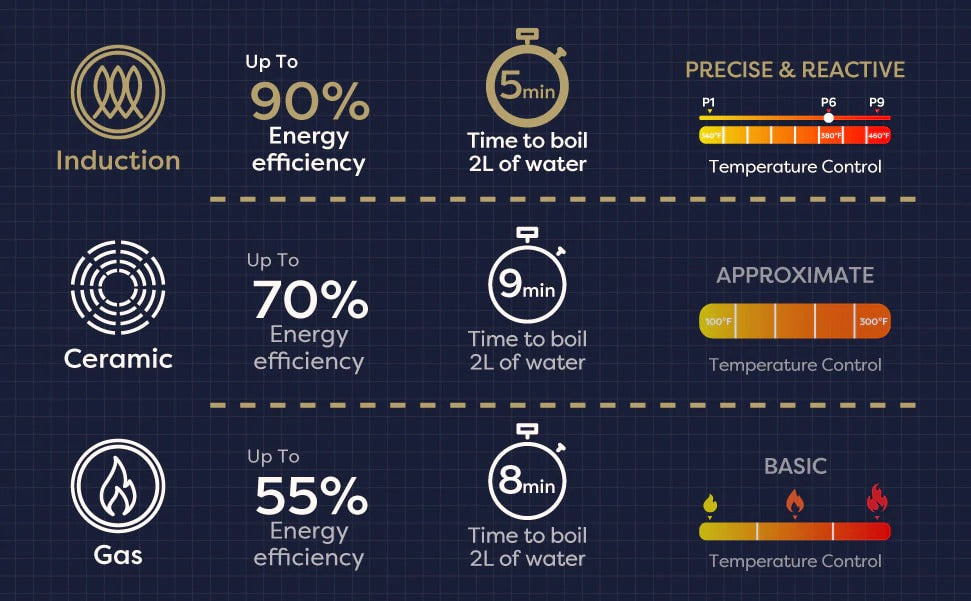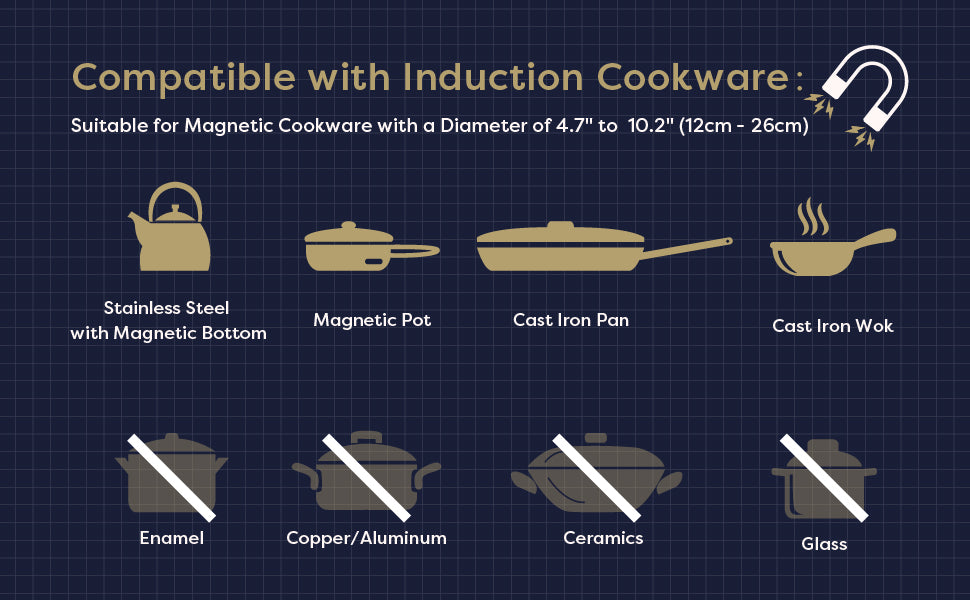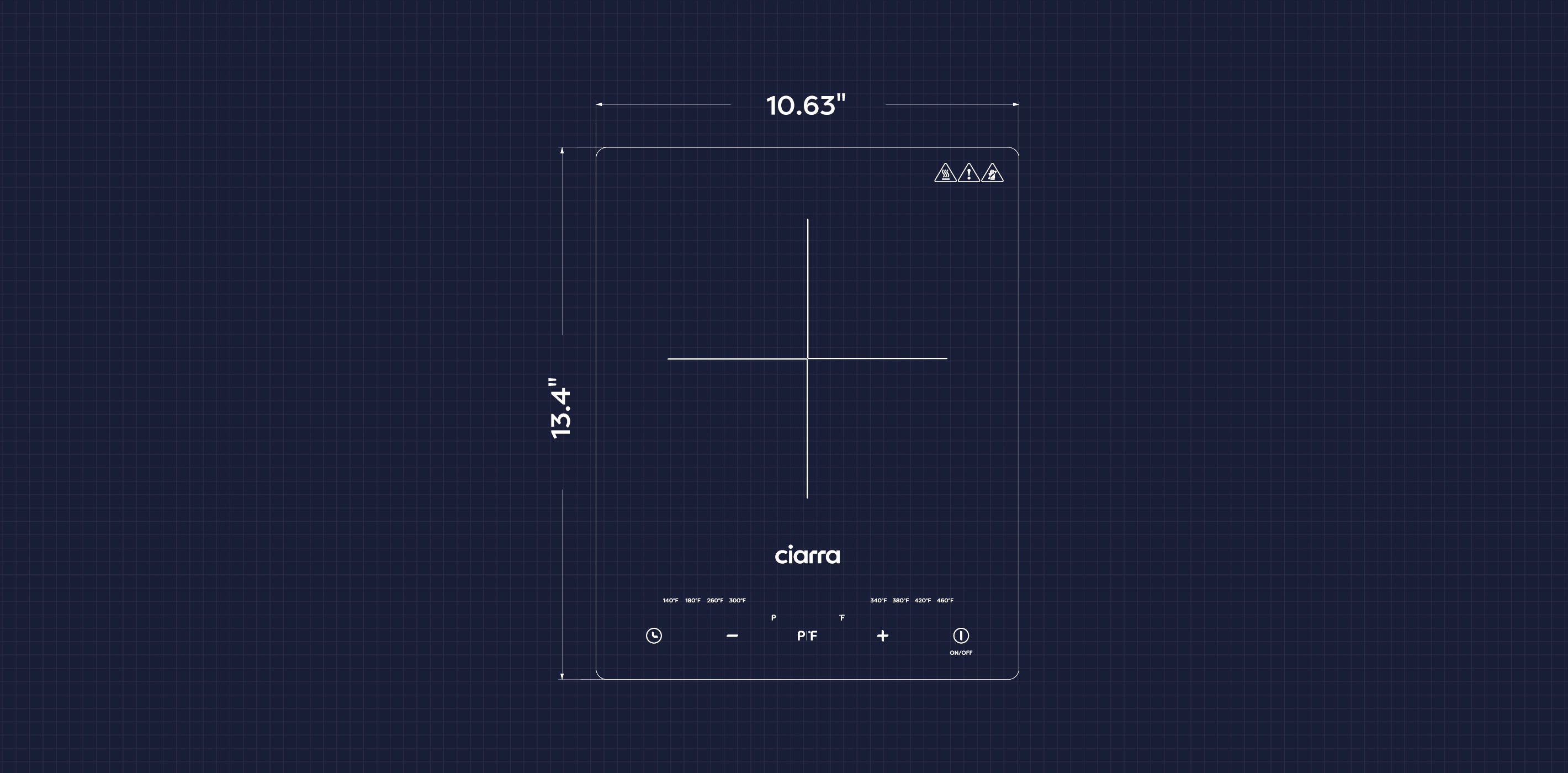 CIARRA Portable Induction Cooktop 1800W with Touch Control CATIH1-OW
| | |
| --- | --- |
| Brand | CIARRA |
| Carton Model | CATIH1-OW |
| Product Dimensions (width × depth &times height) | 13.4*10.63*2.36 inches |
| Net Weight | 2.38Kg / 5.25LBS |
| Main Colour | White Painting |
| Type | Table Induction Cooktop |
| Fuel Type | Induction |
| Frame Type | Frameless |
| Surface | Ceramic Glass |
| Hob Number | 1 |
| Cooking Plates Details | 1*1800W / 4.7 in -11 in(12-28cm) |
| Control Type | Touch |
| Power Levels | 9 |
| Power | 1800W |
| Voltage/Frequency | 120-140V / 50/60Hz |
| Fuse Rating | 15 Amp |
| Cable length | 55 inch (140cm) |
| Warranty | 24 Months |
CIARRA Portable Induction Cooktop 1800W with Touch Control CATIH1-OW
How did I not know about this!?
Having a microwave in my workshop had been the peak of food prep until I got this! I've cooked a few meals now and have enjoyed it very much. The temp control is easy to navigate and the simple interface helps prevent any errors. It gets very hot and does so fairly quickly. It is more or less a small cooktop stove like at home but easier to clean, safer to use, and more fun to cook on. This would be perfect for power outages (with a generator available), camping trips, or dorm rooms for the kids.
Small footprint, excellent addition
This is my first experience with induction cooktops, and I just heard about it from others.
With the help of the manual and some research it was easy to understand the technology and how to cook energy-efficiently.
Power-level and temperature control are the two means of controlling the cooking process and I am happy how this cooktop works and how fast it is up to heat. Powering off immediately stops the cooking process, which I think is more like cooking on gas and definitely different to electric with rest heat.
I like actually that control over the heat and that the cooktop does not stay as long hot as my electric cooktop.
It is a single induction burner with a nice small footprint -- I can easily put it next to my electric stove and have so an additional fast burner at hand. Visually it looks good as well and integrates nicely with my electric stove.
I actually had no induction ready cookware, not a single pot, I didn't know so far that the cookware has to be magnetic. Now I know, and I got my first pot and pan, and everything works really well.
Happy to have it, I can recommend it.
Such perfect technology, no going back to gas.
I have been using a Duxtop induction unit at my house, This Ciarra unit is much better priced and is so sleek looking, easy to clean and heats up so fast,; I love that I can choose low wattage because I too, like Tom S. below, will be using this in my teardrop camper soon...it takes very little room to store too. I am really so very pleased!
only used it a few times but so far so good
This is going in our camper van where space is a premium so we were looking for compact, and quiet and it meets those criteria. The flush, touch digital controls are easy to use and you don't need reading glasses to see them.
Great product
Greg service and product. Received before Christmas which was what I needed