Ciarra HOOD TO GO Carbon Filters Replacement CBCF008-OW (3PCS)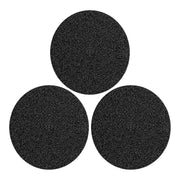 Compatible with HOOD TO GO
Removes smells during cooking.
Essential for recirculating cooker hoods.
Need to be replaced every month's usage.
Standard Shipping - Free For All Orders
10-15 Business Days
Express Shipping - Extra $17.99 For Orders
5-10 Business Days
SKU Number: CBCF008-OW
Material: carbon
Compatible with HOOD TO GO
Why you need carbon filters?
The carbon filters are designed to absorb smells from cooking before re-circulating the air back into your kitchen.
The circulating filters are not designed to absorb copious amounts of water or steam, they are designed to clean the air from impurities such as smoke and smells.
Instructions
Open the filter holder of the HOOD TO GO.
Take off the old carbon filter and put on the new carbon filter.
Close the filter holder.
To ensure the best performance of your extractor, you should replace the carbon filter every month, depending on using frequency.